Marking the United Nations International Day for the Fight against IUU Fishing, 5th June, Wez Norris CEO of the Australian Fisheries Management Authority said that working with the international community and other Australian Government agencies, AFMA works to ensure those who try to profit from illegal fishing operations are caught and punished.
'Last year, Indonesian authorities apprehended the notorious southern ocean, stateless, IUU toothfish fishing vessel, STS-50, and Spanish authorities announced sanctions of AU$13.1 million against three companies involved in IUU fishing undertaken by the operators of the vessels Thunder and Tchaw,' he said.
'AFMA played a role in both investigations, helping to piece together the complex web of activities for all three vessels, over several years.'
At a national level AFMA works closely with the Australian Border Force (ABF) to target and apprehend illegal foreign fishing vessels in Australian waters. Illegal operators face hefty fines and the confiscation and destruction of their boats when they are caught.
At a regional level, AFMA works with Australia's neighbours to run surveillance operations in the Pacific, Indian and Southern Oceans to help combat IUU fishing in those parts of the world.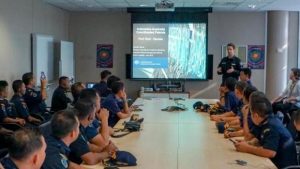 'Australia also works closely with its partner agencies in Indonesia, Papua New Guinea, New Zealand and pacific island countries in coordinating surveillance activity, training and joint operations, in order to take action against fishers doing the wrong thing,' he said.
'AFMA has also run in-country public information campaigns in Indonesia and more recently, the Asia-Pacific region, targeting key ports in cooperation with Vietnamese and Papua New Guinean authorities to ensure fishers understand international maritime laws and boundaries and the consequences when they get caught illegally fishing in Australian waters. This concerted effort to combat IUU fishing, has seen the number of foreign fishing vessels operating illegally in Australian waters plummet from 367 in the 2005-06 financial year to four thus far in the 2018-19 financial year.'
The ABF plays a vital role in the deterrence, detection and interception of illegal fishing vessels in Australian waters through Maritime Border Command, a multi-agency taskforce within the ABF.
Commander Maritime Border Command, Rear Admiral Lee Goddard, said the significant aerial and maritime surveillance capabilities are largely responsible for the drop in IUU fishing in recent years.
'Australia's vast maritime domain covers more than 10 million square kilometres of ocean, so we utilise an intelligence-led, multi-agency, multi-layered approach to combat maritime threats, including illegal fishing,' Rear Admiral Goddard said.
'We have both ABF and Defence vessels strategically placed to quickly respond to information provided by our surveillance assets and partner agencies, and this approach has proven extremely effective. Our dedicated officers are working 24/7, 365 days a year to stop anyone looking to exploit Australian waters and our unique marine life.'