The Dutch demersal sector has been let in no doubt that the decision on pulse fishing will be implemented, and the prospect of a review at European level is slim, while an immediate problem faced by the pulse fleet is a shortage of conventional fishing gear.
At a meeting with fishermen last week, Minister of Agriculture, Nature and Food Quality Carola Schouten ruled out the possibility of the issue being revisited, to the frustration of those attending.
According to Dutch industry organisation VisNed, any prospect of pulse fishing being re-examined depends on the will of the European Commission, and not on any scientific evidence of the method's sustainability.
'The collection of research data is and remains important to ensure that the facts are complete,' VisNed's spokesman said.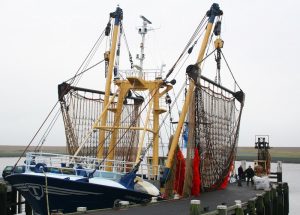 'But after 2021, studies can only be conducted on a very limited scale. The possibility that pulse fishing (after all, research results are known and expected to be positive) could return to the European agenda is low. There is no obligation on the European Commission and if major Member States continue to raise objections, there is a chance that nobody will have the political courage to take up the pulse fishing cause again.'
A withdrawal schedule has been drawn up and those licences issued in 2010 will remain valid to the 1st of July 2021, while licences issued in 2011 and 2012 will continue on a research basis to the end of 2019 and licences that were issued in 2014 are withdrawn on 1st June this year. A group of twenty pulse vessels will have to cease pulse fishing on 1st June.
According to VisNed, the pulse fleet is having to cope with the problem of obtaining new fishing gear at relatively short notice, with no certainty that there will be gear available.
'It has become clear that there are major problems with the delivery of fishing gear. VCU in Urk has issued a statement on this, which has been submitted to the Ministry,' a spokesman for VisNed said, commenting that fishermen had been advised to wait until they had received formal notification from the Ministry before taking action – which has left many of them with a need to source fishing gear with very little notice.
The industry is also dissatisfied with the role of Prime Minister Mark Rutte in pulse fishing policy, as he made no response to the industry's petition in February this year.