A new GRP fishing vessel built for Nuuk fisherman Anthon Egede has steamed home to Greenland from its Danish builder.
The fully shelterdecked 14.99 metre LOA, 6.67 metre beam, Mille Kuka is named after owner Anthon Egede's youngest grandson and this is his second boat.
He already operates Sori, fishing for cod and crab, and commented that building Mille Kuka was a three-year process, first to ensure the finances were in perfect order so that he could apply for support, and a year for Bredgård Boats at Rødbyhavn in Denmark to complete the build.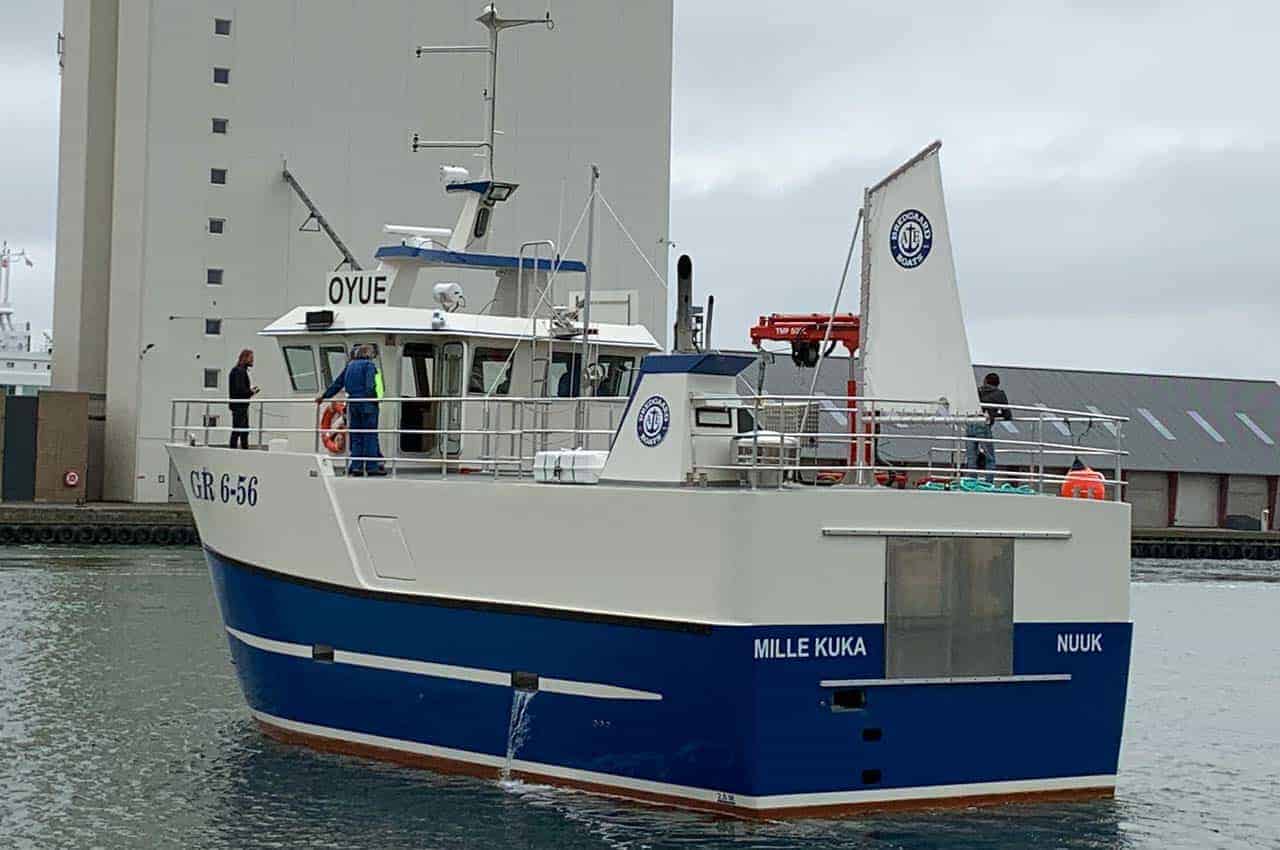 Mille Kuka spent more than two weeks on its way from Denmark to Nuuk, with calls at Tósrshavn in the Faroe Islands and Hafnarfjörður in Iceland for fuel and stores – and to give the local Bredgård Boats agents opportunities to show fishermen in both ports what the yard is capable of delivering.
Built to a design by Borghegn Yacht Design, Mille Kuka is intended for longlining, crabbing and netting, laid out with a forward wheelhouse and accommodation for a crew of six in three two-berth cabins, along with a galley, shower and toilet in the forward section, all fitted out to a high standard, including underfloor heating in some areas.
Mille Kuka has a Loppa gutting and heading machine for handling cod catches, which are stores in the 60 cubic metre chilled fishroom.
The main engine is a 500ho Volva Penta D13, driving a Korsør propeller via a ZF reduction gear. In addition, there are 40kW and 8kW gensets on board.
'I'm naturally proud and happy to own a brand new vessel, and now have two fishing vessels. I am also happy that I can now employ a total of eleven crew members,' Anthon Egede said.
'Mille Kuka has been three years in the making, and I must admit that the past years have been challenging,' he said, commenting that he had to ensure that he was completely debt-free before being able to apply for support to build the new boat, and once this was achieved he was able to apply for a grant and for a loan from Royal Greenland.
'My other vessel Sori is at the shipyard to be painted, so we are starting by fishing for cod with Mille Kuka. We have to get to know the new boat, so there's an exciting summer ahead of us.'
Covid's effects
In Rødbyhavn, the Covid-19 crisis has had its effects on Bredgård Boats, and managing director Michael Jakobsen commented that the likelihood of changes in length requirements for the Norwegian coastal fleet had led to potential Norwegian customers coming to the yard looking for suitable newbuilds – and the Norwegian market is an important one for the yard.
But he said that Covid-19 has put a stop to any demand from Norway, and the Norwegian authorities deliberations on changes to the coastal fleet regulations have stalled for the moment, while several fishermen had been ready to place orders with the yard.