Norwegian fishing company RM Kystfiske AS has taken delivery of a new Cleopatra 36 from Icelandic GRP boatbuilder Trefjar.
The 11 metre Skårungen is under the 11gt threshold and is operated by Roy Skår, who has a background in operating larger fishing vessels in Norway, and his son Roy-Morten Skår who is skippering the new boat.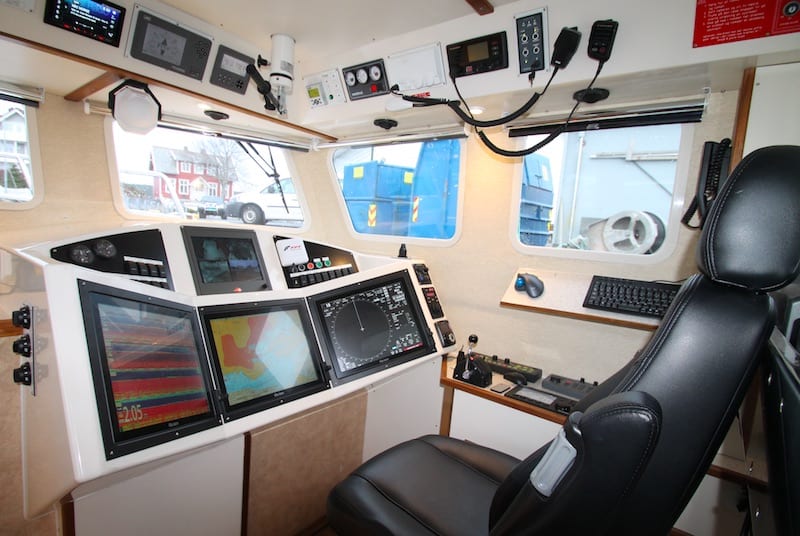 Skårungen has already started fishing and is rigged for netting with deck equipment from Lorentzen with a LGH 800 hauler, and net clearer transporter. The net clearer is a 1m Meydam unit. Hydraulics are from Danfoss and Lorentzen supplied the 500kg anchor winch.
The boat's layout is on classic Cleopatra lines, with the engine space aft, the fishroom with capacity for fifteen 380 litre tubs amidships and the accommodation integrated into the wheelhouse and forward section.
The engine is a 650hp FPT C13 driving a free-standing ZF325IV reduction gear, and there is also a Nogva/Nanni genset for auxiliary power.
The forward section is laid out with three berths in the cabin below, as well as a shower and toilet. The galley and mess are are in the wheelhouse on the port side, opposite the skipper's control position on the starboard side, equipped with mainly JRC electronics, with a JMA-5200 radar, JFC-180BB echo sounder, two JLR-7600 sets and a JLR-21 GPS compass. The AIS is a ProAIS A200 Class A set. The VHF radio installation is from Sailor. Plotters are a Seiwa Explorer 23 and a 3D Olex system. The Comnav P4 autopilot is linked to the bow thruster to come into play automatically when manoeuvring at slow speeds.
Skårungen's liferaft, SART, EPIRB and other safety equipment are supplied by Viking.