The last few weeks have been busy ones for Egersund Ísland, based in the Icelandic east coast port of Eskifjörður, as the anticipation for the coming capelin season grows.
In addition to delivering three trawls, five bags and a complete capelin purse seine, the company's staff have been busy overhauling older purse seines and trawl gear ahead of the coming season, as well as sourcing everything needed from suppliers.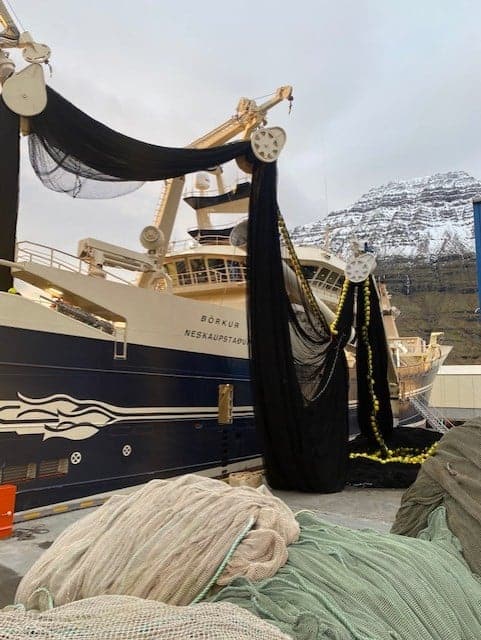 Managing director Stefán B. Invarsson said that the company is fortunate to be part of a network of companies around the world.
'In the short time since the capelin quota was announced, we've been able to source materials for one complete capelin purse seine, a container of floats and a good amount of netting, purse rings and other equipment,' he said.
At present, pelagic vessel Börkur is at the quayside, taking on board a deep capelin seine that was purchased in 2015, but never used.
'There has been no fishing with deep purse seines since this one came brand-new from Norway six years ago,' he said, adding that it's vital that the fleet has access to the right gear when such a large quota is allocated – but nobody had expected that there would be such a large capelin quota.
'If I were a magician, I'd have conjured up two more deep purse seines right after the quota was announced.'
The net loft is going to be busy for the coming weeks preparing for the season, overhauling herring and blue whiting gear, plus maintaining its services to the aquaculture sector. There is a queue of cage nets waiting to be overhauled, but as these will not be needed until the spring, the focus right now is on capelin gear.
He commented that it's clear that next year there will also be activity with the pelagic fleet's capelin gear, as the industry is confident that next season will also be a good one.
'A capelin season like this one is a real bonus for coastal regions, and not least for those companies that supply fishing gear,' he said. 'The capelin fishery brings a lot of work, and we're hoping it's here to stay.'