The Skipasýn-designed filleter freezer trawler under construction for Icelandic fishing company Nesfiskur has been floated off for fitting out at the Armon yard in Vigo.
Due for delivery at the end of this year ready to start fishing in early 2022, the 66.30 metre LOA, 15 metre breadth Baldvin Njálsson is being built to an innovative Skipasýn design that includes a 5 metre diameter propeller able to generate a 67-tonne bollard pull as part of an arrangement developed for optimum operational efficiency.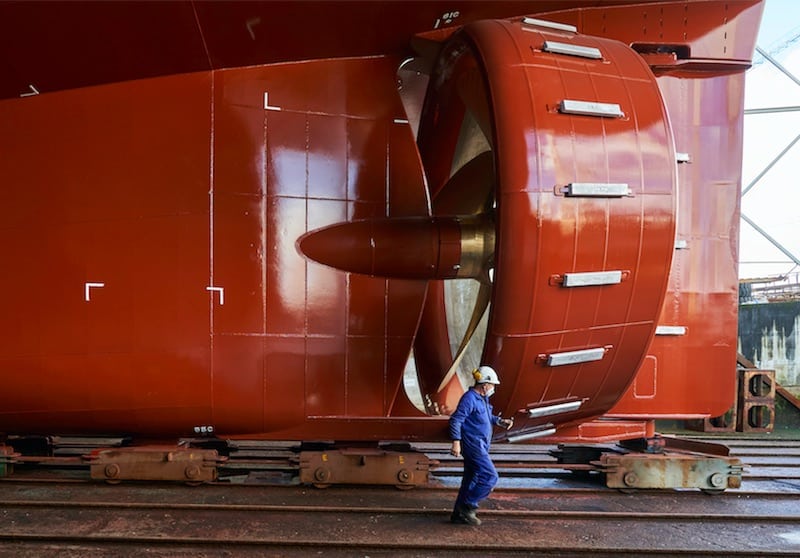 A package of hull form and propulsion optimisations are intended to minimise fuel consumption and running costs, on similar lines to the optimisation measures that were applied to the two 50 metre trawlers, Breki and Páll Pálsson, which began fishing in 2018.
According to Skipasýn, these two trawlers are operating with 35-40% lower fuel costs compared to similar sized vessels operated by the same companies and with similar catch levels.
Baldvin Njálsson's design is also intended to streamline the build process and reduce capital construction costs. It will have two levels of palletised cargo in the 1720 cubic metre refrigerated fishroom, as well a number of mechanised cargo handling systems, and a 580 square metre processing deck.
The new trawler replaces an older vessel of the same name – taking its name from Nesfiskur's founder who passed away in 2000.
The older Baldvin Njálsson was built at the same shipyard in Vigo, back when it was Astilleros Santodomingo, which was subsequently taken over by Astilleros Armon.