The Admiralty Shipyard in St Petersburg has begun cutting steel for the third in the series of trawlers being built for the Russian Fishery Company, with this vessel's keel expected to be laid in June next year.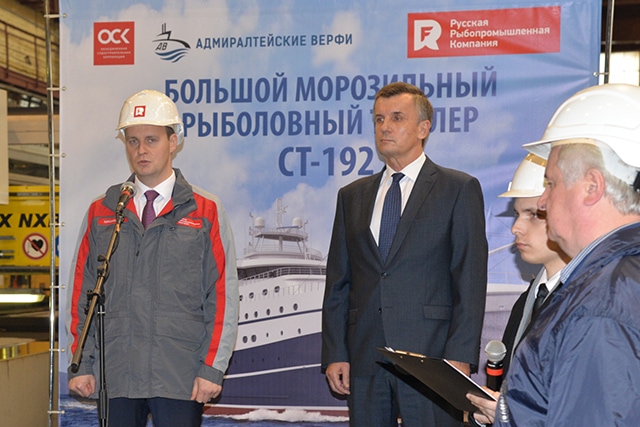 The first vessel in the series of ten 108 metre factory trawlers is taking shape on the yard's slipways and the first pair of trawlers are expected to be floated in the spring. The schedule is for two vessels to be completed each year and the overall investment is slated to run to more than Rub 65 billion.
'Despite the fact that Russian shipyards have not completed such projects before, the vessels construction is being carried out in accordance with the schedule,' said RFC CEO Fedor Kirsanov.
'I am sure that we are successfully implementing plans for the construction of the longest series of vessels of such parameters.'
The series is being built under the state investment quotas programme and each of these trawlers is designed to cope with a catch of around 60,000 tonnes per year – roughly double the capacity of any of the company's current fleet. The focus is on waste-free processing, producing high-value pollock fillets and surimi.