When Russian Far East fishing company Dobroflot sent its trawler Yuzhno-Morskoy to a Chinese shipyard for what was expected to be a four-month refit, nobody expected the crew to have to spend 19 months there.
Now Yuzhno-Morskoy is back in its home port, following a long battle to get the work completed and the trawler released from the Chinese shipyard.
'It's an example of integrity, professionalism, patience and perseverance of the entire crew,' a spokesman for the company said, commenting that the trawler was steamed to the yard in China in the summer of 2019 for scheduled maintenance.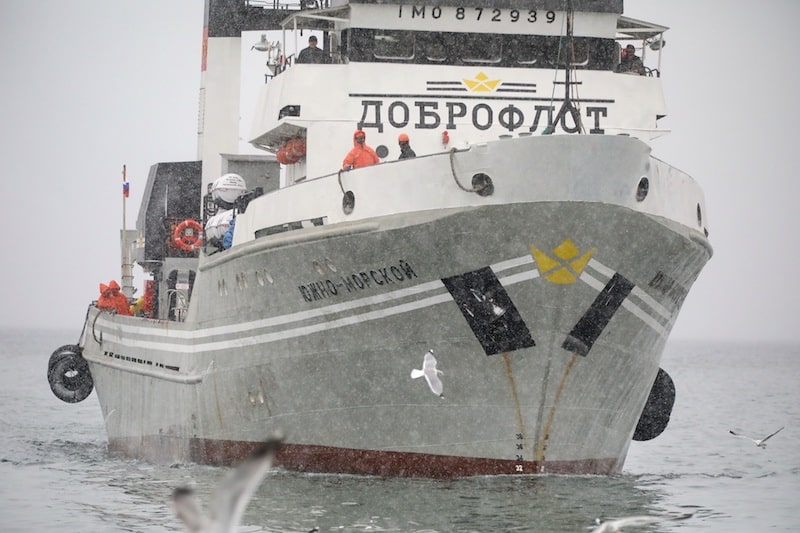 According to Dobroflot's spokesman, the yard initially dragged out the repair work, offering the crew what he described as 'bonuses' to sign off as complete work that had not been done.
'When skipper Denis Yevseev repeatedly refused to sign the documents, they switched tactics from carrots to sticks, refusing to continue work and placing the team on board as hostages to blackmail the entire Group of Companies.'
Yuzhno-Morskoy's crew remained on board and refused to be swayed, while a legal battle commenced, involving Russia's Ministry of Foreign Affairs, the Federal Fisheries Agency office in China, the Russian Register of Shipping to obtain support for the crew, and appealing to the Ministry of Public Security of China.
According to the company, representatives of state bodies in Russia were able to establish the crew's case, leading to the refit work being completed and Yuzhno-Morskoy heading home after 19 months.
'All this would not have been possible without the principled stance and perseverance of the ship's crew, who managed to defend the ship, complete the repairs and return home,' Dobroflot's spokesman said.
Arriving home to the Primorsky Territory, the crew were welcomed as heroes, with Dobroflot staff and management, a band, relatives, friends and family members waiting for them on the quay.
Dobroflot Group of Companies director Alexander Efremov personally thanked Yuzhno-Morskoy's crew for 'their selfless work and perseverance during a long stay away from home, as well as for the patience and will shown to achieve results.'