New seine netter Ben Hur was christened yesterday at the quayside in Senjahopen in Norway, delivered by GOT Skogsøy to Tommy Andre Nilsen and his family.
A four-year design process has gone into perfecting Ben Hur's hull and the Stadt Towing Tank played a key role in this development as Naval Dynamics and builder GOT Skogsøy (part of Global Ocean Technology – GOT) worked together with five rounds of testing to optimise the 1.70 metre models before they were satisfied with the results.
Now that the 20.99 metre, 9 metre beam Ben Hur has been completed and delivered, full-scale tests and a final trials with the full set of gear on board confirmed the designers' optimism before the new seine netter steamed north.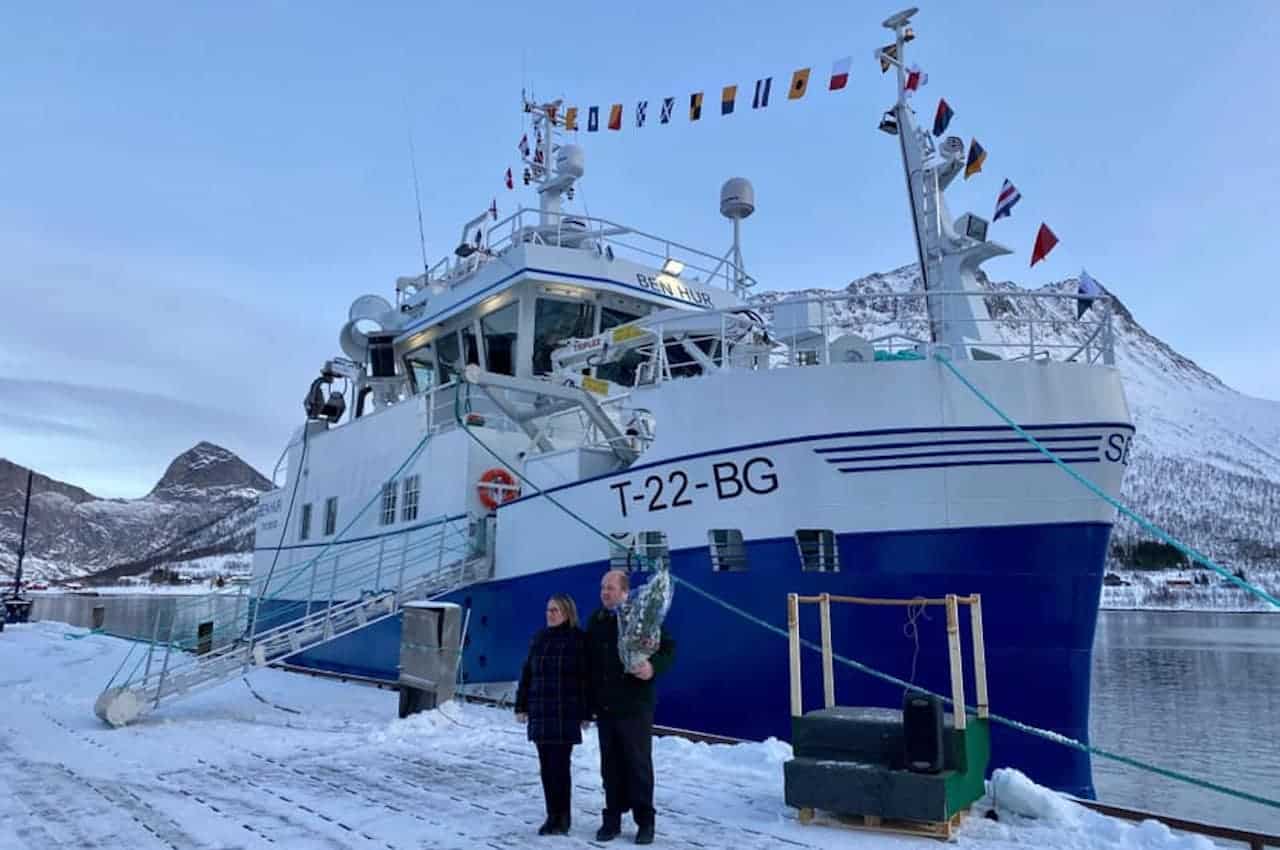 'We have some good figures and we see that the hull is very economic up to 9 knots' said Andre Rustad, managing director of GOT Skogsøy, delighted with the results.
'Based on the fact that there are 450 tonnes going forward through the water, we hit on the right hull configuration,' he said, commenting that the ratio between beam and height, to provide space for equipment and payloads, has to be combined with efficient hull design to ensure efficient running.
'There has to be efficient running both empty and on the way out to fishing grounds, as well as steaming hime with 45 tonnes of fresh fish on board,' he said.
Andre Rustad said that Ben Hur has been shown to be a stable and efficient vessel, ideal for the tough conditions of northern Norway, and the aim of Naval Dynamics and GOT Skogsøy was to achieve a 20-30% improvement in efficiency.
GOT Skogsøy fitted out the new seine netter at the company's Mandal yard in southern Norway for owner Tommy Andre Nilsen, who is looking forward to fishing cod, haddock and saithe with this new vessel – the fourth to carry the Ben Hur name for the company, and his grandfather's boat was also Ben Hur.
It's very much a family affair, with crewman Marius the only outsider among the crew that includes Tommy Andre Nilsen's sons Kristoffer, Gustav Kyrre and Johan, who all trained to join the family business.
Ben Hur has been fitted out by GOT Skogsøy with comfortable accommodation and a digitised wheelhouse arrangement developed by the yard, with a pair of large LED screens facing the skipper. One displays feeds from the boat's navigation and fishing electronics, while the other shows the CCTV feeds from cameras around Ben Hur's working areas.
'We work systematically on the development of both mechanics and digital control systems at GOT Technology,' said Tor Henning Ramfjord, CEO and partner in GOT.
In addition to being close to technology development, he has a fine view of ships and rigs outside his window at the GOT head offices at Gismerøya in Mandal.
'This is something exciting,' he said. 'In addition to fishing vessels, GOT also develops service, rescue and security, passenger and high-speed vessels, as well as fishing vessels. We are at an eventful time for southern Norway's blue economy.'