Pilots from the Port of Longyearbyen in Svalbard are back at home after probably the longest pilot pickup trip to have been carried out anywhere.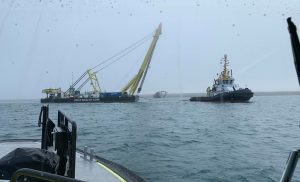 Pilot Elling Carlsen and the pilot vessel's trip was more than 480 nautical miles from Longyearbyen to the Hinlopen Straits in the northern part of Svalbard, with a stop on the way to refuel at Ny-Ålesund. The 24-hour trip, taking them north of 80°N, was to collect two Norwegian Costal Administration pilots from the two tugs and crane barge that are retrieving the wreck of fishing vessel Northguider.
The Bergen-registered former trawler was lost in Hinlopen at the end of last year when it went aground and the 14 crew were lifted off in a long-range rescue operation under difficult conditions; -20°C temperatures and strong winds.
The wreck of the Northguider is now due to be removed.