Safe, reliable, adaptable – why Ireland's new vessel gangway system is causing a stir in the marine sector.
Although the evolution in all aspects of fishing vessel technology has been extraordinary in terms of vessel design, catching capability, carrying capacity, hydraulics, refrigeration and electronics. some things on board have changed very little as the 'old reliable' way of doing things or a particular piece of equipment has never been improved upon.
One such item that has remained largely unchanged is the method used to board vessels at the quay and, despite this not sounding like an issue of any great importance, increasing safety requirements are beginning to see officially-certified gangways becoming mandatory for all sizes of commercial craft.
One company which has focussed on finding a solution for this problem for the fishing, aquaculture and marine leisure sectors is Killybegs-based firm MMG Welding Ltd. As part of their busy and widely varied marine welding and engineering operations, they have invested much time and effort into R&D of new gangway and walkway systems.
Built to the requirements of DVGL-ST-0358/ISO 7061:2015, the patented Compact Gangway was the brainchild of MMG Welding's boss Martin McGuinness and, after some innovative development, the company last year launched their Compact Gangways range of automatically adjusting gangways that adapt to tide and quay levels. All the gangways feature drainage perforated tread plate steps for maximum safety and, for easy storage purposes, a unique manual folding mechanism with collapsible handrails, making this ideal for vessels with limited storage space.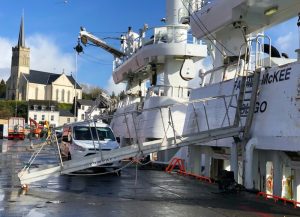 Already now in use on many Irish pelagic, polyvalent and demersal vessels of varying sizes, as well as on cruise ships, at port authority landing points, on aquaculture farms and in offshore construction operations across Europe, additional components have now been added to the custom-built Compact Gangway to include a transom swivel section which can be added to adapt to the height of the rail of the craft on the outward side. This allows the gangway to adjust to any quayside vessel movement, plus a set of customised gunwale steps attach from the vessel to the gangway for added (up to four metres) height under low tide conditions.
Further developments are currently in MMG design team's pipeline and new products which will complement the Compact Gangway system are to be announced at the Aberdeen Skipper Expo.
As well as being much in demand for the larger pelagic sector, Ireland's commercial demersal/polyvalent fishing fleet are set to benefit from the production of Compact Gangway as owners of registered Irish fishing vessels are eligible to apply for a 40% grant from BIM through the Fleet Safety Scheme for purchase and installation of items which improve the overall safety standards onboard, which includes certified gangways.
Skill & Experience
Established in 2005 by Martin McGuinness, MMG Welding offers a coded welding and marine fabrication service and, as an ISO 9001:2015 quality accredited company, it provides welding support services to various industries including marine, offshore construction, and civil engineering projects.
MMG's highly skilled and experienced team of welding engineers are certified under Lloyds BV, DNV, MSO and TUV and are also approved for the Corrib Gas Line and, with a nationwide 24/7 service operation based in Killybegs, Co. Donegal including a purpose-built fully equipped mobile welding workshop, neither time nor distance pose any challenge for the company.
As well as the company meeting the growing demand for their Compact Gangway​ with deliveries for the Atlantic Dawn Group fishing vessels Veronica, Genesis and Atlantic Quest, and other vessels including Father McKee, Sainte Marie De La Mer, Rose of Sharon and Atlantic Rose, MMG Welding has also been carrying out an extensive range of engineering projects such as fitting new hull plating on the vessel Chateau-Thierry and, on local Killybegs demersal trawler Achieve, the design and installation of a new blast freezing racking system and non-return deck scuppers.