A pair of trawlers owned by Icelandic fishing company Skinney-Thinganes have returned from extensive refits carried out in Poland.
Originally designed by Icelandic naval architect Skipasýn and delivered by Ching Fu Shipbuilding in Taiwan in 2008 and 2009, Skinney SF-20 and Thórir SF-77 have operated since delivery alternating gill netting with trawling for langoustines.
The pair previously measured 28.80 metre LOA, but the refit has added an extra eight metres to the length of each fishing vessel, as the owners were looking to improve capacity for fishing for both groundfish and langoustines, as well as making improvements to other operational capacities.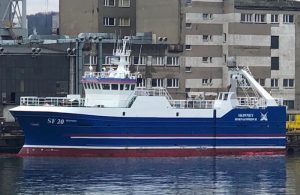 The original designer, Skipasýn, was brought in to carry out the design phase of the refit for both vessels, providing plans for the new eight-metre parallel mid-body sections, as well as re-modelling the stern sections and steering gear, plus a rearrangement of the foreship section of both – conducting performance and economic optimisation modelling before the two were steamed across to Poland.
According to the company, Skinney and Thórir performed well on the return trip to Iceland, where they docked in Hafnarfjörður, and showed an extra knot of speed following after being lengthened.
The two are now alongside in Hafnarfjörður for the second stage of the refits to be carried out, with new catch handling decks being fitted, designed to improve working conditions for the crews, as well as installing ice-less catch cooling systems and providing better catch handling facilities.