Russian trawler Orlik has been a not entirely welcome feature of the harbour at Njarðvík in south-west Iceland for a number of years. Now work is in progress to deal with the abandoned trawler before it becomes even more of a hazard.
The Kaliningrad-registered Orlik is one of the series of more than eighty Orlyonok-type Atlantik 333 trawlers built at Stralsund in then-East Germany for the eastern bloc fishing fleets in the early 1980s. Orlik is from the middle of the series, built in 1983. These 62.26 metre LOA, 13.82 metre breadth trawlers were built to freeze fish products, produce fishmeal and fish oil, and to can products on board.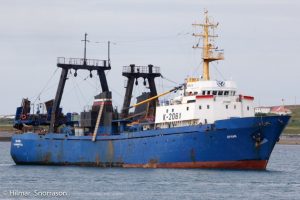 It came to Iceland in 2011 to be managed by an Icelandic company, and was abandoned in the port of Hafnarfjörður. Five years ago it was shifted to Njarðvík when it came into the ownership of waste handling company Hringrás, with plans for it to be scrapped at nearby Helguvík.
These plans came to nothing as regulations on scrapping had been changed, and Orlik stayed tied up in Njarðvík. Since then a couple of emergencies have occurred, and the ship has narrowly been prevented from sinking at its berth – the most recent a few weeks ago as water was pumped from the rusting hull, which was patched up to keep it afloat.
This latest incident demonstrated the urgency of dealing Orlik, which is in no condition to be towed to a scrapping yard overseas, also highlighting the lack of scrapping facilities in Iceland.
A temporary 'dock' has been dug alongside the harbour at Njarðvík, and tugs and harbour workboats were able to shift the ship into it, after which some of the rock and gravel dug out of the trench has been used to backfill, keeping the ship secure while the scrapping process gets underway.
First the asbestos contained in the ship needs to be removed, before the superstructure can be removed. Once that has been done and the hull has been reduced in weight, the plan is for the remaining steelwork to be scrapped at the nearby Skipasmíðastöð Njarðvíkur shipyard.