The Parkol Marine Engineering yard in Whitby has seen the christening of new Fraserburgh twin-rigger Virtuous, built for Alexander West of Virtuous LLP plus Westward Fishing Ltd.
The 24 metre LOA, 7.80 metre moulded breadth Virtuous FR-253 is an SC MacAllister design, and features a stern ramp for handling catches aft instead taking the codend forward to a side hatch as standard.
Laid out for single and twi-rig trawling, Virtuous has a round bilge hull, transom stern, bulbous bow, soft nose stem and full length shelter deck.
The fishroom has capacity for 600 boxes and a 6 tonne ice locker.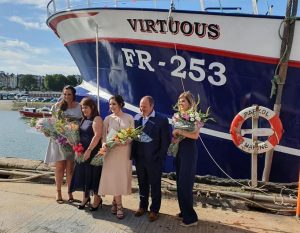 Below decks there are three watertight bulkheads dividing the vessel between aft accommodation with steering gear, engine room, fishroom and forepeak tank.
Accommodation is for a crew of eight or nine.
The main deck has a deckhouse for galley, mess, oilskins and washroom offset to starboard, hopper and catch handling on the starboard side. The aft section has a steel shelter and integral gallows arrangement with net drums.
A weathertight shelter provides catch handling and winch space.
EK Marine supplied the three 15-tonne split winches and twin 2300mm diameter double split net drums.
The main engine on board Virtuous is a Mitsubishi S6R2 T2 driving a five-bladed, 2500mm diameter propeller via a Reintjes Type WAF 474L gearbox with 7.476:1 reduction ratio.
Auxiliary engines are a pair of Mitsubishi 6D16-T units, each rated at 142hp/106kw@1500rpm, plus a Mitsubishi S6B3T2.
Virtuous has tank capacity for 20,000 litres of fuel in four tanks, 300 litres of lube oil and a 300 litres hydraulic oil tank, plus 15,000 litres of fresh water.