Shetland's fishermen are warning Scottish and UK government ministers against an ideological approach to setting next year's catch quotas for species – such as cod.
Reacting to ICES advice that includes options for severe cuts in quotas for North Sea cod and other whitefish species, the Shetland Fishermen's Association says that the state of fish stocks warrants calm management rather than 'blinkered dogmatism.'
In a detailed briefing paper, the SFA dispels a series of myths about North Sea cod and describes as 'risible' the notion that it is endangered.
'The main point we are making is that cod is by no means in steep decline,' said SFA executive officer Simon Collins.
'There were more than 180 million cod in the North Sea in 2018 – that's three times the human population of the UK and three times more than the most common land animal, the field vole. So to describe cod as 'threatened' or 'endangered' or at risk of 'extinction', as many have, is risible.'
He added from a fisheries management point of view, that the baseline or reference point on which decisions about how much can or should be caught, is utterly meaningless.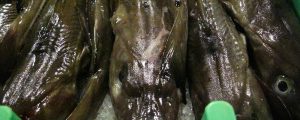 'There was a huge upsurge in the cod stock in the 1960s and 1970s, for not wholly understood reasons, but this has never recurred. And decisions are being made about TACs in the misguided belief that we can get back to that size of a stock,' he said.
'We can't control nature to turn the clock back, especially when other factors have altered, such as the concentration of the stock now in the northern North Sea rather than throughout the North Sea.'
The SFA paper points out that all fish stocks very in abundance over time, and the overall abundance of six principal whitefish species in the North Sea – the others being haddock, plaice, saithe, sole and whiting – has more than doubled in the last 20 years.
'The reality of the situation is that scientists are saying that North Sea cod is twice as abundant as it was a dozen years ago. Their advice to cut quotas has nothing to do with conservation and everything to do with a wholly unrealistic political objective,' Simon Collins said.
'We are sick and tired of ideology getting in the way of sustainable fisheries management. As always, there is serious discussion to be had over catch quotas. But they have to be based on reality, not political targets plucked from thin air.'