Favourable early weather conditions and strong catch rates have Australian Southern Rock Lobster fishermen optimistic about the season ahead.
The first live shipments of the South Australian season were airfreighted last week to China, the biggest market for the premium seafood.
The Southern Rock Lobster (Jasus edwardsii) is among the most sought after lobster in the world and is only found in the waters of southern Australia and New Zealand.
Of the 3000 tonnes Australia processes commercially each year, about 53% is caught in South Australia, 37% in Tasmania and 10% in Victoria.
The South Australian fishery is split into a southern and northern zone. The southern zone season opened on 1st October while the northern zone begins on 1st November, with both fisheries operating until 31st May.
South Australian company Ferguson Australia is a major player, processing and marketing about 450 tonnes of Southern Rock Lobster a year. More than 90% of its catch is exported to China with smaller shipments also regularly sent to Malaysia, Singapore, Hong Kong and Taiwan.
Managing director Andrew Ferguson said fine weather in the Southern Zone for first few days of October had delivered a strong start to the season.
'They've all been out there and full-on into it so it's all systems go,' he said.
'The catch rates are as good as last year or even a little bit better, which is amazing to see, but the fishery really looks strong at the moment with plenty of undersized going back and good catch rates all along the coast.'
There are also high hopes for a strong start to the season in the smaller Northern Zone from 1st November.
'The Northern Zone should be in a good place this season because we had a very high recruitment – a lot of eggs in the fishery – four years ago so there's good prospects for this coming season and the catch rates should be quite good,' Andrew Ferguson said.
Ferguson Australia buys from fishermen in the southern and northern zones and also operates some of its own boats. Live lobsters are transferred to tanks at its three processing plants where they cooled to 6 or 7°C. The cool temperature puts the lobsters into a dormant state and they are packed into chill boxes before being trucked to Melbourne or Adelaide airports and airfreighted to China overnight.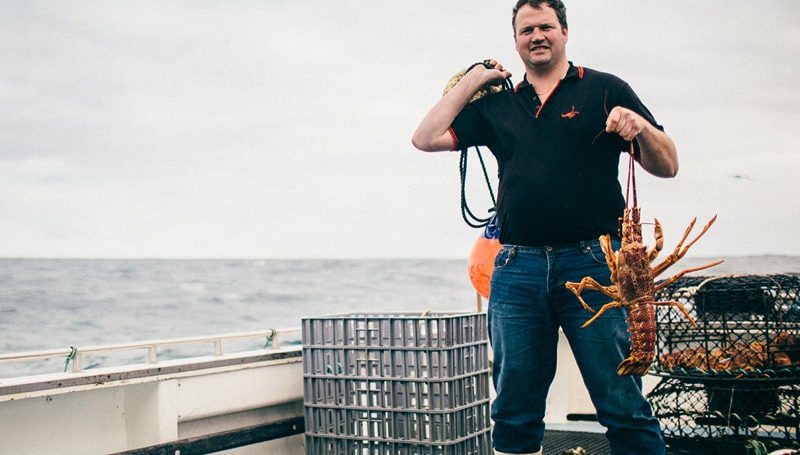 Landing prices for Southern Rock Lobster so far this month have ranged between AU$90 and $130 per kilo, a price range that Andrew Ferguson expects to be sustained for most of the season.
The final portion of a 10% tariff on Australian lobsters in China was removed in January as part of the China Australia Free Trade Agreement (CHAFTA), which has also given Australian exporters direct access to the Chinese market.
He said this had allowed direct access to more Chinese cities including Hangzhou, Dalian, Qingdao.
'Having access to the Chinese market in its raw form is certainly different and has proven challenging logistically in terms of airport clearances and times but it's definitely good for our business,' he said.
'It's opening up for sure and as we find linkages by air we're getting more access to airspace that we didn't have before. It's just getting systems in place to allow a free flow so that we have an expedient supply chain and that's the challenge for us.'
Ferguson Australia and other major Southern Rock Lobster exporters are looking for opportunities made possible by CHAFTA to increase margins by finding a more direct route to customers.
Andrew Ferguson said understanding the nuances of the various major markets within China was also important.
'All across China you've got sectors that prefer different things,' he said.
'The wedding market in Shanghai is probably the biggest market and they take the smaller lobsters and then you've got Beijing where banquets take larger lobsters and southern China take medium-sized lobsters.'