There hadn't been a plan to build a new Anders Nees, but the fifth new vessel to carry the name has been delivered by Thyborøn Skibs & Motor A/S (3XJ) to Tonny Nees and his partners.
When the previous Anders Nees was sold back in 2016, there had been no intention to sell, but the offer made was too good to turn down. They set about searching – unsuccessfully –for a suitable second-hand vessel, before checking out other options and signing a contract for a newbuild just before Christmas 2017.
The new Anders Nees measures 23.95 metres with a 7.40 metre beam and is a Vestværft design, with the boat completed by Thyborøn company 3XJ.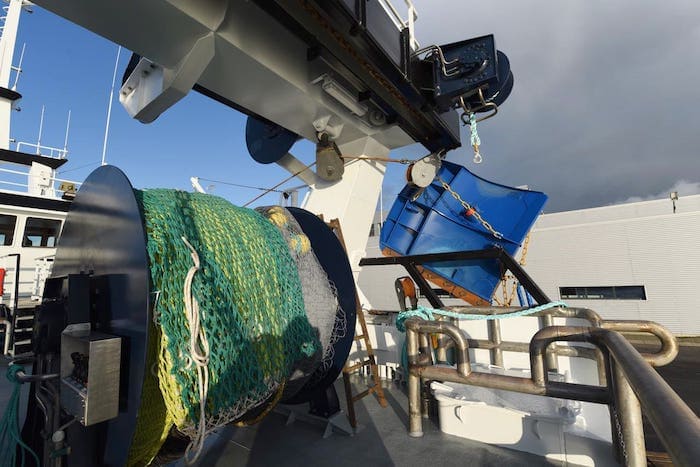 Tonny Nees, after whose grandfather the new vessel and its predecessors is named, owns half of the operation, with the other half owned by Arne Christensen, Jan Poulsen and Rasmus Arnbak who have a long background behind them of working together. As well as the four owners, the crew also includes experienced fisherman Frans Poulsen, adult trainee Jonas Pedersen and Skød Hansen, a trainee from the Thyborøn Fishing School. There is accommodation on board for six, so the seven of them are able to rotate trips to give everyone time ashore.
A great deal of co-operation between the four owners also went into the design and construction of Anders Nees, and Tonny Nees stressed that it was important that everyone was involved in making decisions. Rasmus Arnbak, the youngest of the four at 42, commented that there is excellent co-operation between them, with everyone's ideas complementing those of the others. He said that each of the four of them has his own set of skills, and each does what he does best.
Anders Nees is designed to alternate twin-rig trawling for whitefish and langoustine in the North Sea and Skagerak, with fly-shooting at different times of the year.
The deck is laid out with a pair of main winches with capacity for 3300 metres of 44mm seine rope. A single middle wire winch can hold 500 metres of 20mm warp, and all three have a 14.50-tonne pull and are controlled by a fly-shooting computer. There are two net drums with a 14-tonne pull, as well as gilsons and a codend winch, all supplied and fitted by 3XJ.
Catches are dropped into a reception hopper before going to the processing area, fitted out by BOAtech with a sorting and gutting belt, a rotary washer and a six reception compartments in the 160 cubic metre fishroom, which has a 900-box capacity. Lemvig Maskin- & Køleteknik supplied the fishroom chiller system and the icemaker.
The main engine is a 299bhp Cummins Marine QSK19-M driving a variable pitch four-bladed, 2300mm diameter Hundested propeller via a CPG80 gearbox with a 10.8:1 reduction and fitted with two PTOs.
Anders Nees has tank capacity for 25,000 litres of fuel and 15,000 litres of fresh water.
AS:Scan supplied the Scan steering Type MT1600 steering gear, and a variety of other hardware, including the feedback and indicator system and the comprehensive rudder control.
Fishing gear was sourced locally, and Anders Nees is trawling with an 80-inch pair of Thyborøn Trawldoor Type 11A doors and a 750kg roller clump. NordsøTrawl supplied the trawl gear, made in Magnet Grey
Plenty of local sub-contractors were part of the build, including interiors by Tømrer Pedersen and electronics supplied and fitted by Thyborøn Skibselektro. The wheelhouse is fitted with mainly Furuno equipment, including the radars, sonar, current log, satellite compass, GPS, AIS, bridge guard alarm and GMDSS communications package. The plotters are MaxSea sets. The V-Sat and satellite TV system are from Intellian, while Simrad supplied the autopilot and the PX trawl monitoring system.