A new pelagic vessel ordered by Icelandic fishing and processing company Samherji has been successfully launched at Karstensens in Gdynia.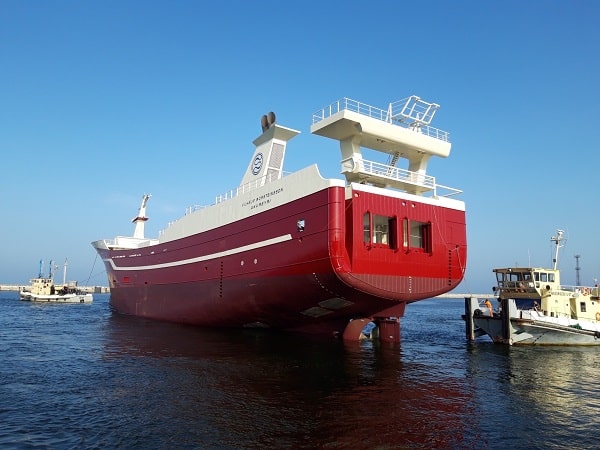 According to the company, the hull was ready for launch eight weeks ago, but this has been delayed by the Covid-19 pandemic.
The new Vilhelm Thorsteinsson EA-11 replaces a previous vessel of the same name which arrived new twenty years ago, and which has since been sold to owners in Russia. The new vessel's carrying capacity will be approximately 3000 tonnes of fish in RSW.
'Contracts for the construction were signed on 4th September 2018, as on that day the twin brothers Baldvin and Vilhelm Thorsteinsson would have turned 90 years old,' explained Samherji's vessel operations director Kristján Vilhelmsson.
Samhjeri has operated a number of vessels over the years named after the fathers of the company's two founders, both of whom were respected and highly successful fishing skippers.
'The ship's equipment will be exceptionally high quality, both in terms of fishing itself and catch handling, but also in terms of work facilities and crew accommodation,' he said.
To launch the vessel,  the hull and then it is wheeled onto a large floating barge, which is then towed from the dock to a sufficient depth. Water is then pumped into the barge's tanks so that it is submerged enough for the ship to float. It is then manoeuvred back to the quayside.
Following the launch, the two main engines, the wheelhouse superstructure and the radar mast were installed.
A few days of installation and other technical work remain to be done in Gdynia before the partially outfitted vessel is to be towed to Skagen for completion. Vilhelm Thorsteinsson is scheduled to be delivered before the end of 2020.