Built for West Coast Sea Products, Alcedo BA-77 has been completed by Parkol Marine Engineering to a design by Ian Paton of SC MacAllister.
The 33.75 metre LOA, 8.90 metre moulded breadth Alcedo is the largest fishing vessel to built by an English yard for many years and was fabricated at Parkol's Teesside facility before steaming to the Whitby yard for final fitting out, sea trials and delivery.
Alcedo is built to work eighteen scallop dredges each side, and the deck is fitted out with tipping doors and catch handling conveyors incorporated into the bulwark sides.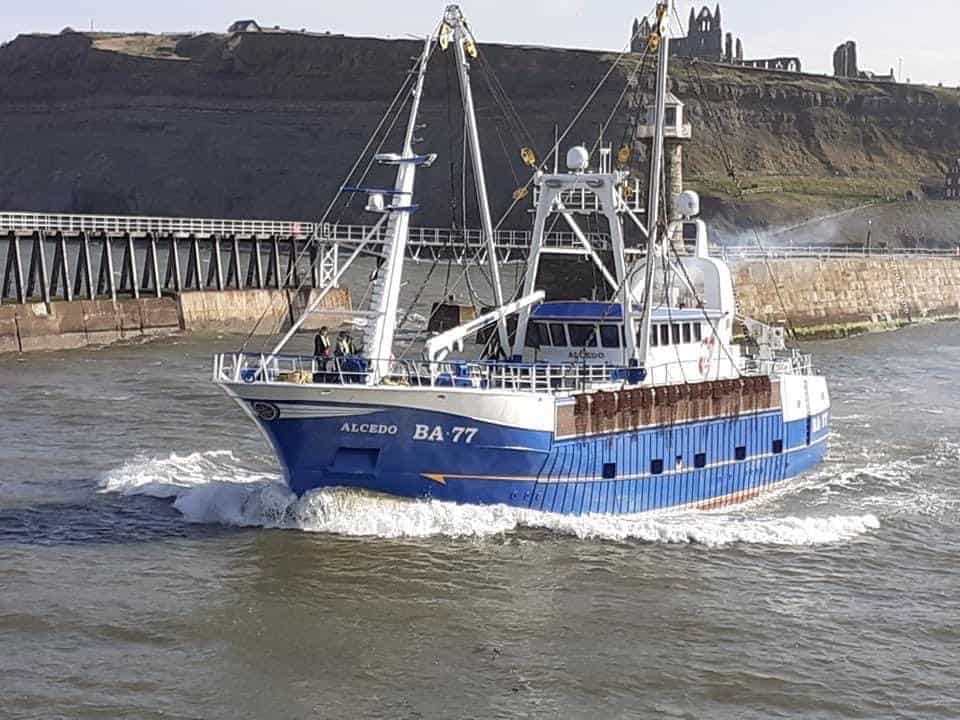 The new scalloper is built to work with a crew of eight.
The layout below deck is subdivided by watertight bulkheads into steering gear compartment, engine room, hold, store and forepeak tank. At deck level there is an aft deckhouse with a combined galley and mess, accommodation, washroom, lobby, oilskin locker and workshop, topped by the wheelhouse overlooking the working deck.
The 26 tonne Padmos winches and derrick winches are located forward. The deck crane and pulling down winches are from EK Marine, who also fabricated the tipping doors and conveyors.
The main engine is a Mitsubishi S12R MPTAW, driving a Reintjes gearbox to turn a 2750mm propeller, and electrical power on board is provided by a Mitsubishi S6A3 coupled to a Stamford generator. There are also Caterpillar C4 and Mitsubishi S4K gensets on board.
Tank capacities are for 40,000 litres of fuel and 15,000 litres of fresh water. The fishroom can hold 60 tonnes of scallops in 450kg bags, and there is a 3 tonne ice locker.
West Coast Sea Products goes back to the 1960s when lobster and whitefish fisherman John King found he had a talent for tracking down king and queen scallops in the Irish Sea, developed his own dredge design, and established Galloway Shellfish at a time when the US scallop fisheries were over exploited and American buyers were searching for product.
The company became West Coast Sea Products in 1971 employing 35 staff and supplying mainly the USA, before also breaking into the French market.
After having been a successful scallop skipper, John King's son – also John King– joined the company in 1989 and took over as managing director when his father retired in 2000. Today the company employs 150 full- and part-time staff, and the third generation of the King family, Stuart and Callum, are continuing the family scallop fishing tradition.