The first of a new series of innovative trawlers for Icelandic owners docked yesterday in the Westman Islands for the first time.
Built for Westman Islands company Bergur-Huginn, a subsidiary of Síldarvinnslan, the new Vestmannaey was completed by the Vard shipyard in Norway, and is due to be followed to Iceland by six more trawlers for a fishing companies Útgerðarfélag Akureyringa, Gjögur and Skinney-Thinganes, as well as Bergey, a second trawler for Bergur-Huginn.
Vestmannaey VE-54 has a 28.90 metre overall length and a beam of 12 metres. The design is a departure from the classic trawler layout in Iceland, and the seven trawlers in the series are built with twin propulsion systems. This consists of a pair of 294kW Yanmar 6EY17W main engines driving 2000mm Finnøy propellers via Finnøy reduction gearboxes, each with its own power take-off. In addition there is a Nogva Scania DI13 HCM534CDE-1 genset in the engine room.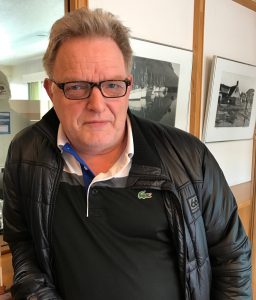 Side thrusters are from Brunvoll.
The deck equipment is from Seaonics, with the latest in permanent magnet electrical trawl winches, with Scantrol management systems.
Vestmannaey's wheelhouse is fitted out with mainly Furuno electronics, as well as WAASP 3D systems and SeaQ documentation and management systems.
Skipper Birgir Thór Sverrisson, who has skippered the previous two Bergur-Huginn trawlers that have sailed under the Vestmannaey name, brought the new trawler home from Norway.
'I very much like the look of this ship,' he said.
'It's excellent in every way and fitted out with some very good equipment. In comparison to the old Vestmannaey, we see much better facilities. This includes the working environment on the catch handling deck and in the wheelhouse – and it's a big difference.'
He commented that he is certain the twin propellers will produce more towing power.
'The ship is extremely quiet.You can hardly hear the engines and all the winches are electric. It's an especially comfortable ship that's good for the crew. We had some rough weather on the way home and so we got to see how it handles. Fishing in this ship is certainly something to look forward to, but that won't be until August-September,' Birgir Thór Sverrisson said.
The catch handling deck is to be installed in Iceland, with the initial preparations carried out in the Westman Islands before steaming to Akureyri for the installation to be completed at the Slippurinn yard.