There's a learning process ahead for the crew of new trawler/seiner Jonge Johannes LT-295, delivered by Maaskant Shipyards to brothers Rense and Johannes de Boer.
'We're not fly-shooting fishermen. We're beamer guys,' Rense de Boer said, alongside in Scheveningen during a weather-enforced break in the new trawler/fly-shooter's sea trials.
All the same, the brothers have already learned a great deal, and considering the time of year with the fly-shooting season in the Channel coming to an end, the plan is for the new trawler to head north to start on twin-rigging for plaice.
He explained that the contract for Jonge Johannes was signed in December 2017, with delivery scheduled for March 2019. But with delays in the hull construction, the hull didn't reach the yard in Stellendam until September last year.
Completed almost a year later than expected, the new vessel has performed well on its first sea trials with seine net gear, and the inverted bow that evolved during the design process has proved itself.
'We were at sea on the trials in a force eight and in with a 2.50 metre wave height,' he said.
With the bow slicing into the waves, there was no slamming – providing a far more comfortable experience than a larger conventional vessel could offer.
'It's very stable, amazing sea handling. Perfect,' he said.
Electric winches
The 32 metre Jonge Johannes is built to alternate fly-shooting and twin-rig trawling, and the owners went to VCU in Urk for many of the systems on board, from the catch-handling layout on the processing deck, to the fishroom catch management system to the electric deck equipment developed by VCU and Dromec for fly-shooting and twin-rigging.
'We have Marport gear sensors, and we can see right away that the flow sensor feeds information to the winch management system, so there's only a few centimetres difference in the ropes,' he said.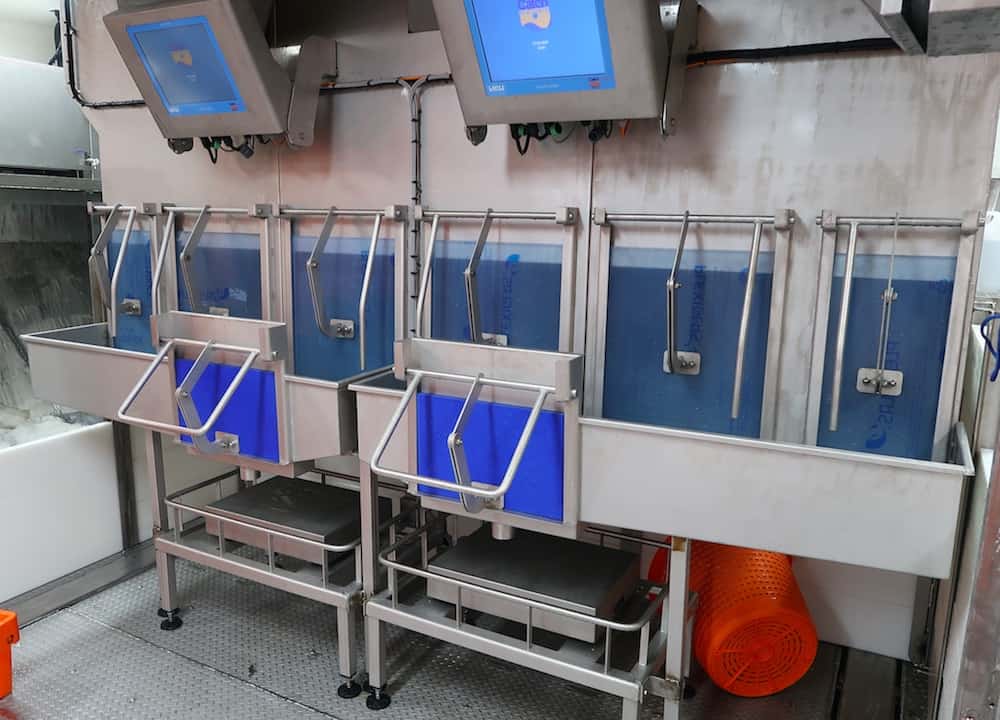 The brothers have for years made their own fishing gear, as well as producing beam trawl gear for other boats, and their preference was to continue this – but setting up twin-rig and seine net gear was completely new to them. Fortunately there was advice close at hand, with the VCU net loft and Danish netmaker Flemming Ruby at Nordsø Trawl able to provide advice.
'My brother Johannes has been ashore for a while and he has made the gear, working as well with a fisherman who has worked for the VCU net loft before he went back fishing himself, but as he's shrimp trawling and fishing has been limited to only one day a week sometimes, he had time to work with us.'
The netting, wires, rubbers and more have all been sourced from VCU, who also supplied LT-295's sets of 50mm, 2.05kg/m seine ropes.
Trawl doors are from Thyborøn, and while Type 23 doors were considered, the choice went to a roller clump and a 6.50 square metre pair of Type 22 doors to spread the two flatfish trawls.
'We're coming to the end of the winter period and could have started by fly-shooting, but in a few weeks the fleet will be moving north to switch over to twin-rigging for plaice. It looks like we will have good weather to make a start, so we decided to begin twin-rigging. The fishing for the first few weeks maybe won't be all that good, but prices have been good,' Rense de Boer said.
Vripack design
Designed by Vripack, the layout of Jonge Johannes places the wheelhouse and accommodation areas of the 32 metre, 9.60 metre beam vessel forward, leaving a long working deck aft with a catch handling area below.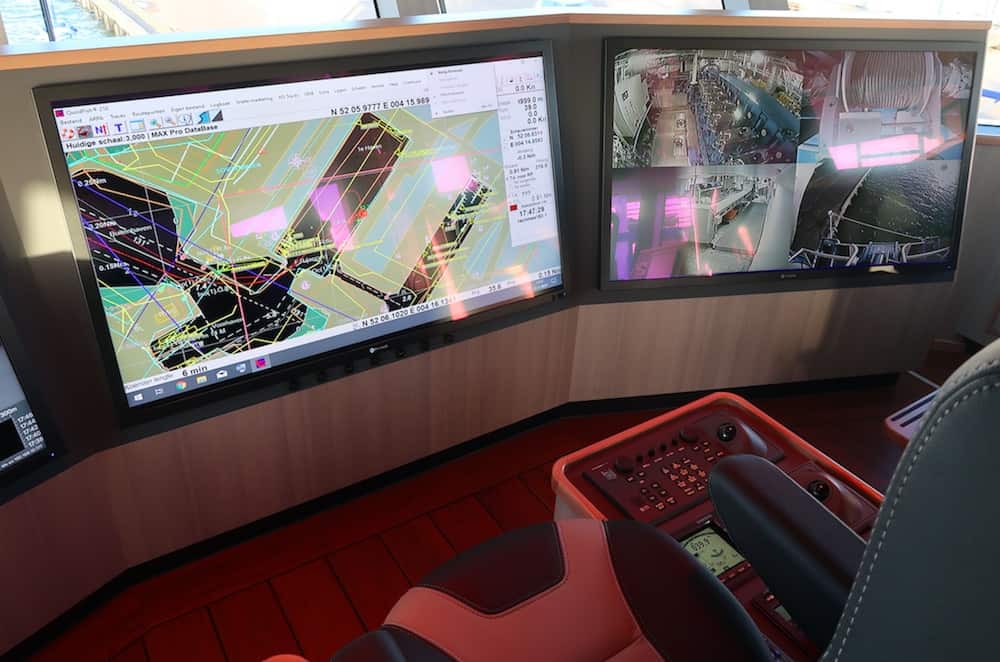 Jonge Johannes has a 1324kW ABC 8DZC main engine driving a Reintjes WGF 1973 reduction gear with a 8,379:1 ratio to turn a 3400mm diameter four-bladed propeller. Auxiliary engines are a pair of 492kW Caterpillar C18s, plus a 108kW C4.4 harbour set. Promac supplied the DDS 3000 60 steering gear and the 805mm bow thruster.
The deck layout has a pair of electric Ósey Urk fly-shooting winches forward, capable of holding 5800 metres of 40mm rope and doubling as trawl winches when twin-rigging, when the middle wire winch with capacity for 800 metres of 26mm warp comes into play. The winches are a development of VCU's widely used hydraulic winches, adapted with Dromec electrical systems and a Scantrol management system.
The same VCU/Dromec technology is behind the pair of 12.50 cubic metre split net drums mounted in the substantial aft gantry, as are the gilson winches. The port side landing crane has a 1600kg/12m capacity and is an Effer unit supplied by Promac.
Equipment from Urk fishing co-operative VCU and its TCD technical division is prominent on the catch handling deck, with a sorting and gutting installation designed to cope both with the variety of catches during the winter fishery and large volumes of plaice during the summer.
Promac supplied the chiller system for the fishroom, as well as the 3000kg/day icemaker.
De Boer Marine fitted out LT-295's wheelhouse, with three 55-inch Neovo and seven 24-inch Samsung displays. The navigation package includes Maxsea Time Zero and Quodfish plotters, Furuno 2218 ATA radars, and Simrad AP-70 autopilots, an AC85A pilot computer, FU80 follow-up tillers and five IS42 multi-function displays. The JRL-21 gyro GPS compasses are from JRC. The VHF DCS and MF/HF sets are from Thrane & Thrane, while portable VHFs, the EPIRB and SART are from Sailor, as is the 6280 UAIS transponder.
Sounder are Furuno sets, with an FE800 navigational sounder and an FCV-1150 fishfinder with an Airmar CHIRP transduccr. A Marport system is used to monitor the fishing gear with a pair of trawl sensors, a centre weight sensor and a pair of symmetry sensors that interface with other wheelhouse systems.