The delivery of this new fisheries monitoring and enforcement vessel comes as Denmark ramps up its efforts to stamp out infringements in Danish waters.
Nordsøen comes into service to replace the elderly Vestkysten, and the new vessel is the Danish Fisheries Agency's largest and best equipped of its kind to date.
'With this new patrol vessel, we are getting a modern and top-flight vessel that will contribute to control at sea in Danish waters for many years to come,' said the Agency's director Nanna Møller.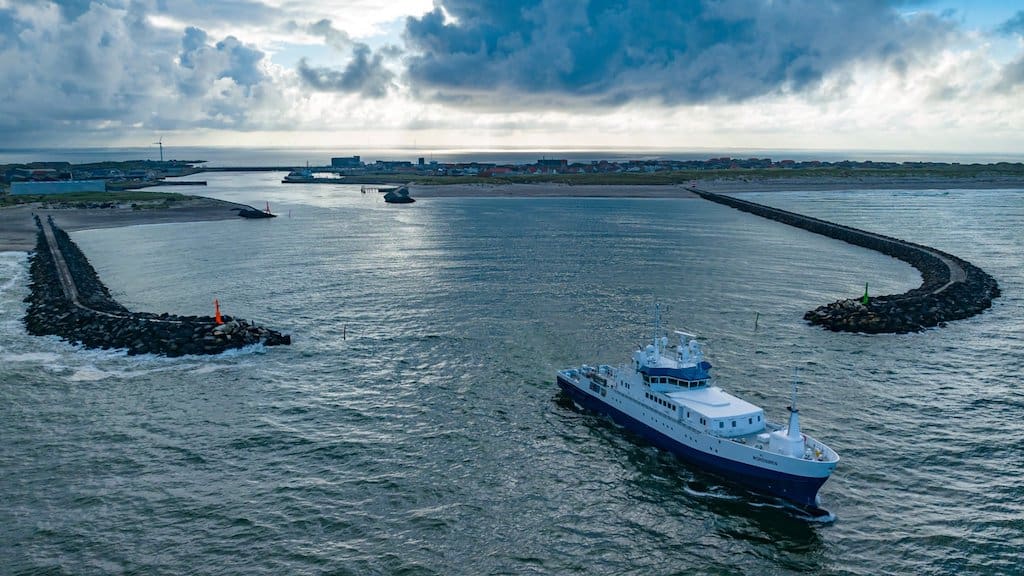 'Nordsøen replaces Vestkysten, which since 1987 has handled the inspection in the North Sea and Skagerrak. Our crew is very much looking forward to taking over the new ship, which is both bigger and faster than Vestkysten and equipped with the latest systems, including monitoring and documentation of violations.'
The systems that Nordsøen has at is disposal include capacity to deploy and retrieve drones used for monitoring fishing activity.
Nordsøen has been built by Hvide Sande Shipyard Steel & Service, which won the order in an EU tender in 2020. The build cost is around DKK175 million, mainly financed with grants from the European Maritime and Fisheries Development Fund (EHFF).
Nordsøen meets the most stringent requirements for discharge of harmful substances (Tier III), and the design and construction have placed emphasis on choosing environmentally and climate-friendly solutions in relation to cooling, utilisation of batteries and other systems on board.
The 64 metre vessel has an 11 metre beam and achieves an 18 knot top speed. Accommodation is for up to 14 persons, although Nordsøen is expected to operate with a regular crew of nine.
Its main role is to handle fisheries monitoring and enforcement in the North Sea and Skagerrak, but also to be prepared for rescue duties and to participate in international fisheries monitoring tasks in the North Atlantic.
It is expected to conduct around 250 boardings of fishing vessels every year.